Facebook (Personal Profile)
Each person must have their own, and according to Facebook's TOS (terms of service), only one personal Facebook Account.
You will do everything from this single, personal account.
Facebook Page
A Facebook Page should be created from the OWNER of the businesses personal Facebook Account. Then you can share admin (or other levels) of access to manage page with/for you in Facebook Page-- Settings-- Page Roles-- Assign New Page Roles
* I personally choose admin for everyone expect one particular page that we allow our sponsors to post to the page but nothing else.
* I do recommend using the Facebook Pages App on Mobile Devices to better manage your page. There is always more options for settings and privacy on the Desktop Version.
Facebook Group
A group can be started by anyone through their Facebook personal profile or directly from a Page.
To create a Group from a Page or to Link an Existing Group to a Page
Facebook Page-- Settings-- Edit Page-- Tabs-- Add Groups Tab. Then you should be able to go back to your page and click on the groups tab to the left of your page and Create a New Group or Link an Existing Group.
**** You can then manage your Facebook Page Admins and Facebook Group Admins in Facebook Page Settings
In Facebook Groups, you can link other group(s), as well.
Facebook Messenger
Facebook Messages will come to your personal profile through your Messenger App or in the desktop Facebook Message area. Your pages Messages will go into your Pages Messages. These can be managed using the Facebook Pages App or from Desktop, go to Page-- Inbox
You can directly access your Facebook Page Inbox using /inbox after your Facebook Page link.
For Example: https://www.facebook.com/purduenicole/inbox
Facebook Events
You can create Facebook Events from your Page or from your Group. Facebook introduced an app called Local within the last year or so that is just for events. Facebook will share your event with people they think it's related to, even if they don't like your page. Facebook is building for community and you see huge opportunities for Local Businesses such as this one.
Facebook Live
Facebook Live is another great new(er) feature within Facebook and now accessible everywhere, including Stories, Groups, Events etc. You can go Live as your personal profile or your page depending on where you are.
Facebook Ads Manager
The Facebook Ads Manager is another platform within Facebook. The OWNER should be the person to establish a Facebook Ad Account from their Facebook Personal Profile. You can then add admins to help manager your Facebook Ad Account in Ad Account- Settings- People
There is a Facebook Ads Manager Mobile App, I do not use it. I want the most data and features available when I am investing into an ad campaign.
Creating an Ad Account and grabbing a Pixel will put your Page into the Business Ads Manager. Many more features and developments coming, so while you will see some annoyances with not being able to manage your page from your Facebook App, you can access still with Facebook Pages App.
Facebook Stories
Facebook's attempt to be Snapchat....
OR :)
Via our friends at Wiki.. Short user-generated photo or video collections that can be uploaded to the user's Facebook. Facebook Stories were created on March 28, 2017. They are considered to be a second news feed for the social media website.
Facebook Stories haven't been taking off the same way Instagram Stories did.. which only means for you that there's a huge opportunity still as it's not flooded with content. It is available for some Pages, but predominately stories is for your personal profile. You can share stories in Groups and Events which has some creative things you can do to support/promote those networks deeper.
Facebook Watch
Facebook's attempt to be YouTube...
OR:)
Via our friends at Wiki... video-on-demand service operated by Facebook. It was announced on August 9, 2017, with initial availability the day after, and with rollout to all U.S. users by the end of the month.
For scripted, produced shows. Also not taking off... yet!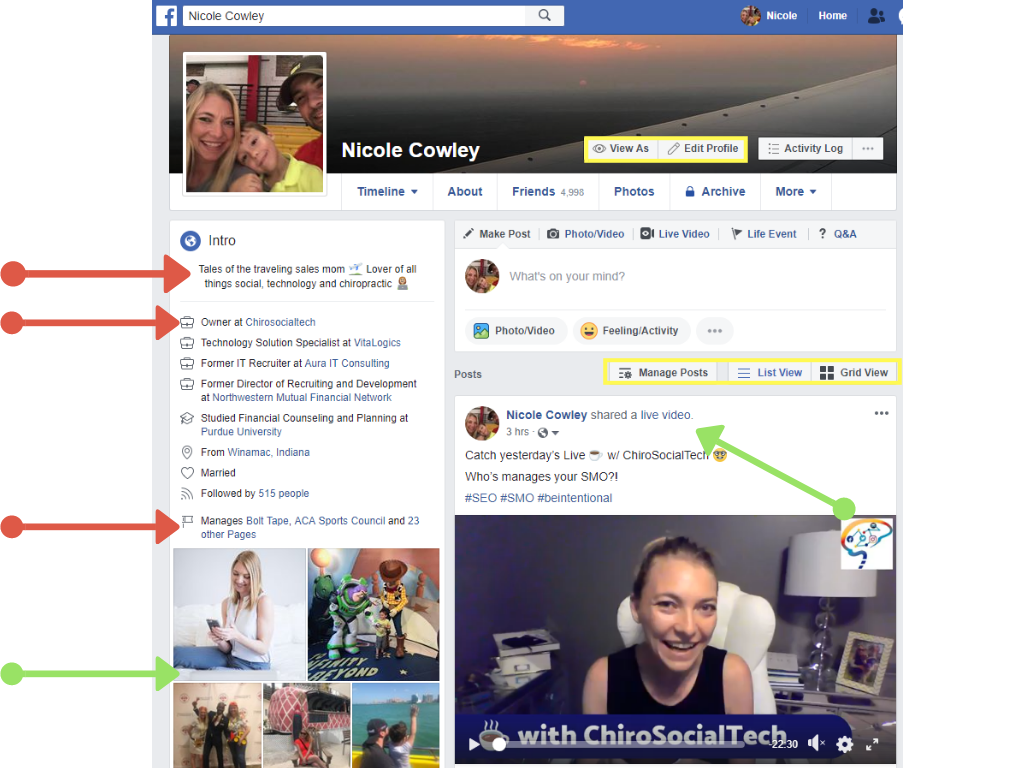 FB PERSONAL
Yellow Boxes: view/edit your profile information
Green Arrows: Shared from page to personal (so we can still gather data, analytics and pixel people)
Select highlight photos to appear on top of profile
Red Arrows: Short, brief Intro Statement
TAG YOUR BUSINESS'S FACEBOOK PAGE (SO IT'S LINKED/CLICKABLE)
CAN SHOW THE PAGES THAT YOU MANAGE ON YOUR PERSONAL PROFILE
GO TO "EDIT PROFILE" TO MAKE ANY UPDATES
Facebook Today
And this is why we deliver the Bootcamp with updated information twice a year. It is not being officially recognized by many marketers that the Facebook Business Page organic posts are of little value.
At the core, Facebook is a communication channel where you can get impressions.
ORGANIC REACH- This is the number of people that see your post in their newsfeed not related to any ad dollars. The organic Facebook Reach for business pages has been on the decline for over a year now. And then in early 2018 Facebook began to favor engagement over branded content. This effected major publishers world wide.
The Strategy for Facebook Now:
1. You still do want to have your Facebook Page and PRIME it as we mentioned. Strong header, profile, pinned post, videos, photos and bio built out on your page.
2. Post your BEST content. When someone LANDS on your Facebook Page, they will scroll for a few posts to see research you and gather more data. YOU are in control of what they find. Remember Nike, about once a month they post to their page!!
3. Consider sharing from your core buckets: Testimonial Videos, Re-purposed Reviews, Facebook Live Show, Educational (branded) Images, Short Videos, Blogs (on your page) or Infographics, and Events.
--------- Infographics can be created very easily in Canva. Do you have 5-10 points on any single topic? That's your infographic. BONUS: You could create the infographic in pieces so you can share the points in a STORY. :)
4. Networking with your personal account. Share your pages posts to your personal account. You will also want to engage in Local Groups from your personal account.
5. Interact in local groups. AND Create your own group!
Mark Zuckerberg, CEO and Founder of Facebook, is on a mission to connect 1B people to MEANINGFUL Facebook Groups.
To Create Meaningful community inside of a Facebook Group, we have to go back to really understanding our Audience and Knowing What They Want from Month 1 of Setting it Up. And then we can build a Community Wellness Program to serve them!